Sunday Worship in the Great Auditorium
Sunday Worship Services are held in the Great Auditorium at 10:30 AM from June 10 to September 9 as well as some Sunday evenings at 7:00 PM.
Childcare for our Sunday Worship Services is provided in the Youth Temple from 10:15 AM to noon for worshipers' children ages 6 months to 3 years.
Children's Church for ages 4-11 is held in the Youth Temple from 10:15 AM to noon from June 10th to August 12th.
Interpretation for the deaf is provided during Sunday Morning Worship Services by Kymme Van Cleef and Cynthia Williams.
Interpreters are available for other services. Contact Kymme at 732-539-0309 or at kvcc5C@aol.com or Cindy at 732-925-8086 or clwterp@aol.com.
2019 Worship Speakers
June 9
Morning Worship at 10:30 AM
For Philip Yancey, writing is his way of pondering. He has authored over 25 books, each the result of candidly exploring painful or perplexing situations. Along the way he has wrestled with God, with the Church, and with fellow believers.
As Philip probes the most basic questions and deepest mysteries of the Christian faith, he invites his millions of readers to join the spiritual journey. He dispels the deceit and disappointment of his own childhood, revealing the beauty of grace and truth, and ultimately pointing to the Creator of such beauty. Yancey's skillful blend of journalistic excellence and poetic expression fosters the longevity of his award-winning books, which have sold over 15 million copies in English, and have been translated into over 40 languages worldwide.
Philip's bestselling titles include What's So Amazing About Grace? and The Jesus I Never Knew; his most recent book is Vanishing Grace: Bringing Good News to a Deeply Divided World; and his next book, Fearfully and Wonderfully: The Marvel of Bearing God's Image, will be released this August.
Philip Yancey and his wife lived in downtown Chicago before moving to the foothills of Colorado, where they enjoy mountain climbing, skiing, wildlife, and many other delights of the Rocky Mountains. Philip is quite grateful to be able to make a career of writing (and speaking) about the issues of faith that intrigue him.
June 16
Morning Worship at 10:30 AM
Message: Ambassadors of Reconciliation
Erick Sorensen was born and raised in Southern California. He is married to Melissa and they have three boys, Jude, Jonathan, and Lincoln.
He has degrees from Lutheran Brethren Bible College (Certificate of Biblical Studies), Biola University (Bachelors in Organizational Leadership) and Lutheran Brethren Seminary (Master of Divinity). Before moving to Manhattan to plant Epiphany, Pastor Sorensen served as Senior Pastor at Victoria Community Church in Fontana, California, and Bethany Lutheran Brethren Church in Staten Island, NY.
In his spare time Pastor Sorensen enjoys hanging out with his wife, wrestling with his boys, reading good books and watching just about every show on AMC. He is a frequent contributor to www.christholdfast.org and you can catch up with him on Facebook or on Twitter @pastorerick.
June 23
Morning Worship at 10:30 AM
Message: Blessed are Those Who Doubt
Amanda Drury (PhD Princeton Theological Seminary) is Associate Professor of Practical Theology at Indiana Wesleyan University where she lives with her husband and three children. She is the author of Saying is Believing: The Necessity of Testimony in Adolescent Spiritual Formation, and Trauma and Testimony (forthcoming). Amanda oversees The Imaginarinarium--a center for missional innovation at IWU. She also serves as the founding director of The Brain Kitchen, a non-profit organization in Marion, Indiana serving children with after-school mentoring and cooking classes in a trauma-informed environment.

June 30
Morning Worship at 10:30 AM
Message: Today is the Day
Rev. Dr. Douglas Strong is Dean of the School of Theology and Professor of the History of Christianity at Seattle Pacific University. Dr. Strong is an ordained clergyman in the United Methodist Church and served for eight years as a pastor in East Brunswick, New Jersey. He is especially interested in reviving the Wesleyan practice of small-group accountable discipleship among today's Christians.
Dr. Strong's field of study is American religious history, particularly the history of 19th-century revivalism, social reform, and the Wesleyan/Holiness movement in America. He is a past president of the Wesleyan Theological Society, a co-convener of the History of Methodism Working Group of the Oxford Institute of Methodist Theological Studies, and is on the Steering Committee of the Wesleyan Studies Group of the American Academy of Religion. He has conducted several Wesley Heritage Study Tours to England.
He has also led students on numerous trips to Russia. He has taught four times at the Theological Seminary of the Russian Methodist Church, and served on that school's board of trustees. He taught at two theological schools in Korea. He is committed to intercultural learning as essential for students preparing to live out their Christian vocation in a global society.
In addition to his role as dean, Douglas Strong teaches both undergraduate and graduate courses in the School of Theology.
July 7
Morning Worship at 10:30 AM
Message: The Living Gospel
Dr. Steve DeNeff currently serves as Senior Pastor of College Wesleyan Church in Marion, IN. On the campus of Indiana Wesleyan University, the church is an inter-generational congregation in an academic setting that exists within a city that is economically and educationally strained. College Church partners with community leaders to reverse the spiritual, economic and educational gears that contribute to poverty.
In addition to being a frequent contributor to Wesleyan periodicals, Steve travels extensively as a speaker to conferences, camps and retreats, and is active in the training and development of new ministers. His books include Way of Holiness, More than Forgiveness, Seven Saving Graces, SoulShift: The Measure of a Life Transformed, and most recently, FaultLines: Challenges That Transform Your Soul.
Pastor Steve earned his B.A. and M.A. from Indiana Wesleyan University where he also received an honorary doctorate in 2003. For over 30 years, he has been the lucky husband of Lori and is the father of two adult children. He and Lori welcomed their first grandbaby in 2017, Maddox Ryne.
July 14
Morning Worship at 10:30 AM
Pastor Christian Andrews grew up in Middletown, New Jersey, where he spent summers at the Jersey Shore. He was a skater and a surfer, and though he loved youth group, he never dreamed he would become a pastor some day. In college, he studied physics, but before going off to graduate school, he served as a ministry intern in Philadelphia for one year. Working as a teacher's aid, he was pushed into the position of Bible teacher for the 8th grade students. The experience was a first step toward God's call for him. He became a youth pastor the following year, and went off to Princeton Theological Seminary to become prepared for a new path.
Pastor Andrews serves as the Lead Pastor of Renaissance Church, in Summit NJ, where he lives with his wife Michelle, and their kids, Nate and Lily.
In the Evening at 7:00 PM
Our 65th Annual Choir Festival will be a wonderful time of praise, fellowship and worship.
For more information, please see our Choir Festival page.
July 21
Morning Worship at 10:30 AM
A self-described "hot mess," Margaret Feinberg is a popular Bible teacher and speaker at churches and leading conferences such as Catalyst, Thrive, and Women of Joy, and creator of best-selling coloring books for grown ups — Live Loved: An Adult Coloring Book and Live Free: An Adult Coloring Book. Her books, including The Organic God, The Sacred Echo, Scouting the Divine, Wonderstruck, Fight Back With Joy, and their corresponding Bible studies, have sold nearly one million copies and received critical acclaim and extensive national media coverage from CNN, the Associated Press, USA Today, Los Angeles Times, Washington Post, and more.
She was recently named one of 50 women most shaping culture and the church today by Christianity Today, one of the 30 Voices who will help lead the church in the next decade by Charisma magazine and one of 40 who will shape Christian publishing by Christian Retailing magazine. Margaret lives in Salt Lake City, Utah with her husband, Leif, and their superpup, Hershey. She believes some of the best days are spent in jammies, laughing, and being silly.
July 28
Morning Worship at 10:30 AM
Evening Worship at 7 PM
Rev. Dr. Thomas Tewell has been an ordained pastor for 40 years and has served congregations in Bethlehem, PA and New Providence, NJ, as well as the 5,100 member Memorial Drive Presbyterian Church in Houston, Texas and the 3,500 member Fifth Avenue Presbyterian Church in New York City. Currently, Tom is the Founder and Executive Director of Macedonian Ministry, a position he has held since 2008. This ministry gives Dr. Tewell the privilege of serving as a pastor to pastors.
Dr. Tewell and his wife, Suzanne, have been married for over 40 years and have two married sons, two wonderful daughters-in-law and six grandchildren who are the joy of their lives! The Tewells live in Atlanta, GA.
August 4
Morning Worship at 10:30 AM
Evening Worship at 7 PM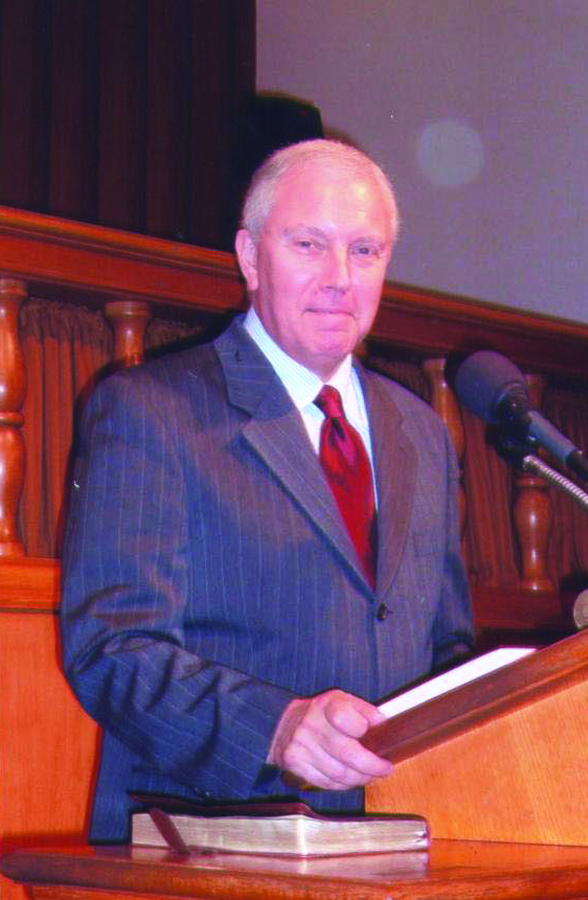 Pastor Roger Casey has pastored churches on both sides of the Atlantic Ocean. He has spent a considerable amount of time engaged in missionary evangelism in Southern India. Roger's last pastorate, before retiring, in Manhattan spanned 18 years. He currently serves as a Bible teacher and an elder at the Evangelical Presbyterian Church, Milford PA.
August 11
Morning Worship at 10:30 AM
The Reverend Dr. M. Craig Barnes was raised on Long Island, New York. After graduating from The King's College and Princeton Theological Seminary, he received a Ph.D. in the History of Christianity from The University of Chicago.
He has served as a pastor to three congregations including The National Presbyterian Church in Washington D.C. In the fall of 2002, he became the Meneilly Professor of Pastoral Ministry at Pittsburgh Seminary while also serving as the senior pastor of Shadyside Presbyterian Church.
In 2012 he was elected president of Princeton Theological Seminary.
He has eight published books including Searching For Home, The Pastor as Minor Poet, and Body and Soul. He also serves as an Editor at Large and frequent contributor to The Christian Century.
He is married to Dawne Hess Barnes who is an interior decorator. They have three delightful children and two hairy dogs.
7 PM
Philadelphia Brass, Gordon Turk, Jason Tramm and the Great Auditorium Choir
August 18
Morning Worship at 10:30 AM
Evening Worship at 7 PM
Rev. Dr. R.T. Kendall is a Christian writer, speaker, and teacher who pastored Westminster Chapel for 25 years. He is the author of more than 50 books, including Total Forgiveness.
Kendall was born in Ashland, Kentucky and named after R. T. Williams who was a General Superintendent of the Church of the Nazarene. With his wife, Louise, he has a son, Robert Tillman II, and a daughter, Melissa Louise, and three grandchildren. He received degrees at Trevecca Nazarene University in Nashville, Tennessee, the Southern Baptist Theological Seminary in Louisville, Kentucky and the University of Louisville before earning a Doctor of Philosophy at Regent's Park College, a hall of the University of Oxford. He later received a Doctor of Divinity from Trevecca Nazarene University.
From 1977 to 2002 he was the Minister at Westminster Chapel in London.
Kendall is now in retirement in Hendersonville, Tennessee, from where he continues his work as an author and guest speaker at Christian conferences. He appears on Christian TV program and is a regular contributor to Christian publications. He is also the President of R.T. Kendall Ministries.
August 25
Morning Worship at 10:30 AM
Rev. Dr. DeForest B. Soaries, Jr.
Rev. Dr. DeForest B. Soaries, Jr. is the Senior Pastor of First Baptist Church of Lincoln Gardens in Somerset, New Jersey, former New Jersey Secretary of State, and the author of Say Yes to No Debt: 12 Steps to Financial Freedom. He is the creator of dfree® – a financial freedom movement in use by thousands of churches and organizations across the country. dfree® has been featured by CNN in a 90-minute Black in America documentary entitled, "Almighty Debt." His work has also been featured in several publications, including the New York Times, the Wall Street Journal, and Black Enterprise. Dr. Soaries is currently a member of the Board of Directors at Ocwen Financial Corp., Independence Realty Trust and Federal Home Loan Bank of New York. He serves as the Compensation Chair on all three boards.
Annual Sacred Masterworks at 7 PM
Selections from Handel's Messiah
This years' annual Sacred Masterwork features
the Great Auditorium Choir and Quartet
and the MidAtlantic Symphony Orchestra, Jason C. Tramm, Conductor
September 1
Morning Worship at 10:30 AM
Rev. Dr. Sondra Wheeler is the Carr Professor of Christian Ethics at Wesley Theological Seminary in Washington D.C. She works in bioethics, historical sources of theological ethics, and the virtue tradition, as well as in biblical ethics. Her publications include Wealth as Peril and Obligation: The New Testament on Possessions, Stewards of Life: Bioethics and Pastoral Care, The Love We Were Made For a pair of books in the arena of ethics and pastoral practice, Minister as Moral Theologian and Sustaining Ministry both with Baker Academic. She lives in Maryland with her husband, and has grown children in Massachusetts, Philadelphia, and DC.
September 8 — Salvation Army Sunday
Morning Worship at 10:30 AM
Colonels Jeff & Dorothy Smith
Colonels Jeffrey and Dorothy Smith are currently appointed as National Chief Secretary and National Secretary for Women's Ministries in the USA National Headquarters located in Alexandria, VA. They assumed these appointments on September 1, 2017. They are active soldiers of the Alexandria, VA Corps and are members of the corps musical groups.
The Smiths are lifelong members of The Salvation Army and have been officers since 1986. In 2007 they were each selected to be delegates of the International College for Officers in London, England. Dorothy attended the 192nd session and Jeff the 195th session.
Prior to their present appointment the Smiths also served at Territorial Headquarters in the USA Central Territory, as Divisional Leaders, Training College Principal and Director of Special Services and in several Corps appointments
Jeff is a native of Flint, Mich. He attended the University of Michigan in Ann Arbor for two years before transferring to Asbury College in Wilmore, Ky., where he graduated with a bachelor's degree in Bible in 1979. In 1984 he received a master's degree in religious education from Nazarene Theological Seminary in Kansas City, Mo.
Dorothy is from Detroit, Mich., and a graduate of the University of Michigan where she majored in psychology and sociology. She also has completed a master's degree in pastoral counseling at Olivet Nazarene University and a master's degree in social work at Wayne State University.
The Smiths have two daughters, Shannon Howard and Catherine Fitzgerald. Shannon, along with her husband, Ben, daughter, Ellie and son, Jack, live near Dallas, Texas. Catherine and her husband, Jonathan, are Salvation Army officers currently appointed as Corps Officers of the New Albany, IN Corps in the Central Territory. They have two children, Emily and Aaron Jeffrey (AJ).
Jeff's hobbies include woodworking, carpentry, boating and water skiing. His passion is to teach and preach the Word of God and to live in a way that magnifies Christ Jesus.
Dorothy enjoys people, quilting, water skiing, the outdoors and being with her grandchildren. Her favorite place to relax is at their cottage in the upper peninsula of Michigan. Charles Wesley's hymn "A charge to keep I have" contains her personal mission statement: "To serve the present age, my calling to fulfill: O may it all my powers engage to do my Master's will!"